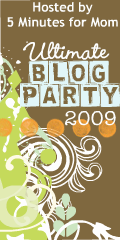 I love a Blog Party where I can meet new bloggers and party on and show off my party digs here at WM247.
5 Minutes For Mom
is also all about a party.
As the obvious states in my header, my job requirements and title have changed in the past 5 months. I'm still adjusting to the SAHM life but wouldn't trade it for a cubicle any day. Oops guess I should say Hi! and introduce myself. I'm Jean a mom with 3 boys and dog that is also a boy. It's all boy all the time around this house. Welcome to my little slice of crazy.
I try to make a random point of humor in this here blog. When I say random, I really mean it and have even been dubbed "The Queen of Random" by a blog buddy of mine.
My latest jab of random humor was my unconventional attempt at
opening a pickle jar
.
I'm also trying to spice things up a bit with Wordless Wednesday, by taking pictures of random items around the house or activities associated with a specific letter. I've only just begun and this week was the letter
C for Cookies
. If you think this is something that strikes your fancy, please feel free to play along and let me know as I'd love to check it out.
Since you have made it this far on my rambling ramblings how about a little giveaway? Do you like to read? So do I. How about a book of your choosing at
PaperBackSwap
? If you haven't heard of it check it out. It's only the greatest way to get free books and de clutter some of your own books. Just click this nifty button to sign up

Here's all you have to do:
Go to
PaperBackSwap
and search through all the books that are posted hourly on the site. Come back here and comment on which book you'd like to have. I'll use some kind of random way of drawing a name and will order the book for you by using one of my credits.
I'm not sure about international or Canadian shipping as the person you order the book from has to pay for the shipping. So I will just stick it to the U.S.
You have until Friday March 27th to enter.
Thanks for stopping by. If you leave a comment I'll be sure to stop by your place as well.
Here's My Prize Preferences: ( really anything would be super fantastic!)
Kitchen Aid Artisan Stand Mixer from
Mom's Who Think
Pepsi Tote Full of Fun Stuff from
My Good Cents
Surprise Box from
Monkeys Momma
or Any of the Target gift card giveaways would be groovy.