We have been bubble blowing fools the past few days. Who can blame us when the weather has been in the low 80's in March! No mild spring for us this year. Looks like were heading full force in summer very early.
The dog has had just as much fun playing with the bubbles. He cracks me up how he chases after them and "pops" them with his mouth.
Yes that was one ginormous bubble. You know hard it is to blow bubbles and take pictures at the same time? Almost impossible. Though I'm a ninja photo mom warrior.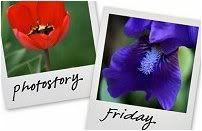 Hosted by Cecily and MamaGeek