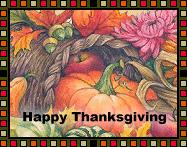 WwW.SparkleTags.Com
Since I just can't have an empty post on Thanksgiving, because the producers of this here blog are pretty strict about having a post every single day this month. Even on a dial up connection, I'm here for you my dear sweet two readers.
I leave you a Thankful Thursday Thirteen.
1. Family -duh that's a given
2. My family's health - so far everyone has been rather healthy this year (knock on wood)
3. Friends
4. Our jobs
5. A bountiful dinner, I didn't have to cook.
6. Paid Time Off
7. The love, patience and understanding hubs has for me.
8. The entertainment, joy, and love and laughter my children give me.
9. The great blog friends I've met and the great blogs I read.
10. My fourth child- my dog Anakin, I never thought I'd love another dog again after our last one passed.
11. This great country, though we have our problems just like any other country, I wouldn't want to live anywhere else.
12. Technology and all the great things that have come out of it.
13. The peace and tranquility that was the 5 hour drive up here, due to the portable dvd player.